Twelve years ago, I was inspired to travel the world by five backpackers I met while on a trip to Thailand. As we talked on our way to a temple outside Chiang Mai, I was captivated by their tales from the road. Since my trip to Costa Rica the previous year, I had thought about nothing but travel. All I wanted to do was travel more — and here were five people who had managed to unlock "the secret" to long-term travel. They were living my dream.
And I wanted to nothing more than to follow in their footsteps.
So, in a moment of spontaneity, I quit my job, finished school, and, using my savings, went on a yearlong trip around the world. Eighteen months later, I finally came home, sat back down in a cubicle — and realized this wasn't for me. I immediately decided to head out again; a few months later, I flew to Europe.
I've been a perpetual nomad ever since.
What started out as a yearlong trip has turned into a decade-plus adventure. I've been to close to 90 countries, lived and worked overseas, and seen and done things I never thought possible.
I never had any intention of making travel a career. I was just going to get travel out of my system before I settled down with a corporate job — but life had other plans! This little personal blog I started has morphed into a six-figure business with employees, digital guides, a best-selling book, a charitable foundation, a media school, a hostel, and a host of conference and speaking engagements.
It's been a crazy ride.
And it can all be traced back to my decision to travel.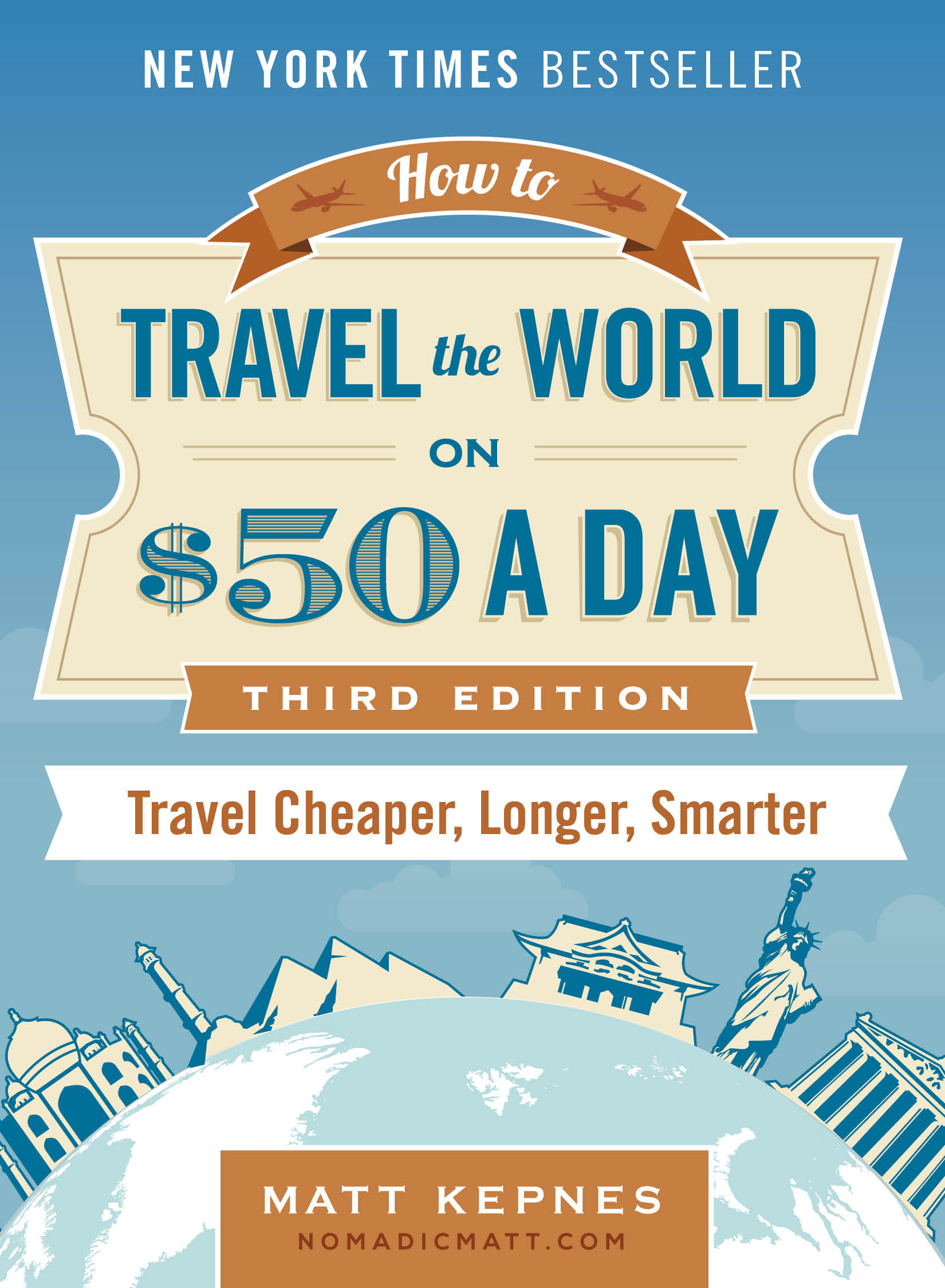 Today, the third edition of my New York Times best-selling book, How to Travel the World on $50 a Day, is out. This new edition contains over 40 pages of new content and updated prices, tips, tricks, and travel advice. It features new companies and resources you can use to help you travel cheaper. It also has more of a global perspective to help non-Americans, couples, and families travel.
So, in honor of this new edition, I want to do something special. I want to give someone the chance to travel and change their life the way travel changed mine:
I am giving away a trip around the world. (For real.)
I know how lucky I was to be able to do that original trip and how much of a positive impact it had on my life.
So I am going to give a trip around the world worth $18,250 USD (i.e., $50 a day) to one lucky person who buys the book. It's like Willy Wonka's golden ticket contest…except winning this won't turn you into a giant purple ball!
So, without further ado, here are the details of the contest — and how you can win:
The Prize: One trip worth $18,250 USD (i.e., $50 a day) with money paid out in monthly increments.
You have six months to start your trip after you win and nine to eighteen months to complete it (or when the money runs out, whichever comes first).
How to Enter:
Purchase a copy of the latest edition of my book, How to Travel the World on $50 a Day. You can buy it in person at any retailer or online at the following places:
Write a 500-word (no more) mini-essay on why you really want the trip, what you hope to accomplish, and how you will give back to the world along the way. Be honest and raw. I want to know what drives you. I want to know your why. Essays will be judged on clarity, humor, and creativity.
Submit a copy of your receipt along with your contact details and essay by clicking the button below:
This contest will run from now until 11:59:59 EST, November 30th, 2017. Winners will be picked on or around December 17th, 2017.
Three other things to know:
Winners will be required to update readers about their trip once a month on this blog so we can follow along with your adventure!
This is open to residents of the fifty United States and the District of Columbia and Canada (excluding Quebec), age 18 or older. I wish it was open to the entire world, but since this is a published, print book, I must work within the constraints my publisher's legal department tells me!
Be sure to read all of the legal information below!
So, I wish you luck. Even if you don't win, the book is an up-to-date collection of all the best ways to save money. It's my most complete guide to date, containing resources, tips, and details you won't find on this blog (so you should totally get it!). (Plus it makes an amazing gift for anyone you know who travels…and the holidays are coming up soon! Just saying!)
Here's all that legal jazz that my publisher told me I had to tell you:
Official Rules for the HOW TO TRAVEL THE WORLD Contest
Open to residents of the fifty United States and the District of Columbia and Canada (excluding Quebec), age 18 or older.
HOW TO ENTER
1. To enter the How to Travel the World Contest (the "Contest"), presented by Nomadic Matt, Inc. ("Author") and TarcherPerigee, an imprint of Penguin Random House LLC (together, the "Sponsors") purchase a copy of How to Travel the World on $50 a Day by Matt Kepnes and complete the entry form as instructed at nomadicmatt.com by submitting the transaction or purchase order number from your receipt , along with your first and last name, e-mail address, telephone number, and an essay of no more than five hundred (500) words on why you want to take a trip around the world, what you hope to accomplish on your trip, and how you will use this trip to give back. Contest begins October 30, 2017, 9:00:00 AM, Eastern Time and all entries must be received no later than November 30, 2017, 11:59:59 PM, Eastern Time. Limit one entry per person and per email account. The sole determinant of time for the purposes of receipt of a valid entry will be the computer servers of the Author. Proof of transmission (screenshots or captures, etc.) does not constitute proof of receipt
2. Entries will not be returned. By entering the Contest, contestants agree to abide by these rules, and represent and warrant that the entries are their own and original creations, and do not violate or infringe the rights, including, without limitation, copyrights, trademark rights or rights of publicity/privacy, of any third party.
3. Entries are void if they are in whole or in part illegible or incomplete. Sponsors assume no responsibility for late, lost, incomplete, illegible, or misdirected e-mail entries.
4. Sponsors and their parent, subsidiary or affiliated companies are not responsible for technical, hardware or software malfunctions of any kind, lost or unavailable network connections, or failed, incorrect, incomplete, inaccurate, garbled or delayed electronic communications caused by the sender, or by any of the equipment or programming associated with or utilized in this Contest which may limit the ability to play or participate, or by any human error which may occur in the processing of the entries. If for any reason the Contest is not capable of being conducted as described in these rules, Sponsors shall have the right to cancel, terminate, modify or suspend the Contest. In the event of a dispute over the identity of an online entrant, entry will be deemed submitted by the authorized holder of the email account.
PRIVACY POLICY
All information submitted in connection with entry to this Contest shall be governed by Author's privacy policy (at https://www.nomadicmatt.com/privacy-policy/). By entering this Contest, you acknowledge that you have read and agree to this privacy policy and you agree to receive e-mail communications from Author.
JUDGING
1. On or about December 17th, 2017 one (1) will be selected by the Author.
2. Entries will be judged on clarity, humor, and creativity, with equal weight being given to each criterion. The decisions of the Sponsors with respect to the selection of the winners, and in regard to all matter relating to this Contest, shall be final and binding.
3. Winner will be notified via email and/or telephone. Winner must respond to the email notification or telephone call within six (6) days or an alternate winner will be chosen.
PRIZES
1. One (1) Winner shall receive a trip around the world in consultation with the Author as more fully described below. Total Approximate Retail Value ("ARV") = $18,250.
Winner will consult with Author to book initial flights for the trip and to purchase travel insurance and travel gear (ARV = $2,000). Winner and Author will consult to book subsequent flights for the trip (ARV = $2,700). Winner will receive $1500 upon commencement of the trip for the first month of travel to cover other travel and living expenses in connection with the trip. Winner will receive an additional $1500 to cover travel and living expenses in connection with the trip every thirty (30) days for twelve (12) months, the money runs out, or until the trip concludes, whichever occurs first. Travel must be commenced within six (6) months of winner being notified and must be completed within eighteen (18) months of commencement of the trip. Winner shall submit travel journals with itineraries, tips, and highlights to Author every thirty (30) days from commencement of the trip and a final journal upon conclusion of the trip. Non-compliance with these terms and conditions may result in forfeiture of part or all of the prize.
2. Winner is responsible for any expenses not expressly included in the prize description in excess of the prize amounts, such as transportation to and from the airports, travel within destinations, personal expenses, travel and health insurance, meals, beverages, gratuities and any additional hotel expenses such as telephone calls, incidentals and upgrades or other charges that may arise.
3. In the event that there is an insufficient number of qualified entries or if the Sponsors determines in their absolute discretion that no or too few entries meet the quality standards established to award the prizes, Sponsors reserve the right not to award the prizes.
ELIGIBILITY
Open to residents of the fifty United States and the District of Columbia and Canada (excluding Quebec), age 18 or older. Employees of Sponsors and their parent company, subsidiaries, affiliates or other parties in any way involved in the development, production or distribution of this Contest, as well as the immediate family (spouse, parents, siblings, children) and household members of each such employee are not eligible to participate in the Contest. Void where prohibited by law. All state and local restrictions apply.
GENERAL
1. This Contest will be run in accordance with these Official Rules, subject to amendment by Sponsor. These Official Rules shall govern in the event of any inconsistency with other Contest-related materials.
2. No cash substitution, transfer or assignment of prizes allowed. In the event of the unavailability of a prize or prizes, Sponsor may substitute a prize or prizes of equal or greater value.
3. All expenses, including taxes (if any), related to receipt and use of prizes are the sole responsibility of the winner.
4. Winner shall be required to execute an Affidavit of Eligibility and Release. The affidavit must be returned within fourteen (14) days of notification or winner will forfeit their prize and another winner will be selected. Should the ARV equal or exceed $600.00, winners shall be required to provide a Social Security Number or an Individual Taxpayer Identification Number to Sponsors for issuance of a 1099 Form. Winner is responsible for obtaining all necessary visas and a valid passport/travel documents for international travel.
5. By accepting a prize the winner grants to Sponsors the right to edit, publish, copy, display and otherwise use their entries in connection with this Contest, and to further use their names, likenesses, and biographical information in advertising and promotional materials, without further compensation or permission, except where prohibited by law.
6. LIMITATION OF LIABILITY. By competing in this Contest and/or accepting a prize, entrants release Sponsors, their parent, subsidiary or affiliated companies, or the agencies of any of them and the authors and/or editors of any books promoted hereby from any and all liability for any loss harm, injuries, damages, cost or expenses arising out of or relating to participation in this Contest or the acceptance, use or misuse of the prize(s). UNDER NO CIRCUMSTANCES SHALL THE RELEASED PARTIES BE LIABLE FOR INDIRECT, INCIDENTAL, CONSEQUENTIAL, SPECIAL OR EXEMPLARY DAMAGES, ATTORNEYS' FEES, OR ANY OTHER DAMAGES.
7. Any dispute arising from this Contest will be determined according to the laws of the State of New York, without reference to its conflict of law principles, and by entering the entrants consent to the personal jurisdiction of the state and federal courts located in New York County and agree that such courts have exclusive jurisdiction over all such disputes.
WINNERS LIST
For a copy of the winners list, send a self-addressed, stamped envelope by June 4, 2018 to TarcherPerigee Marketing, 375 Hudson Street, New York, NY 10014, Attention: How to Travel the World Contest Winners List.
SPONSORS
Nomadic Matt, Inc.
207 E. 9th Street
Georgetown, Texas 78626
TarcherPerigee
An imprint of Penguin Random House LLC
345 Hudson Street
New York, New York 10014
The post Win a Trip Around The World! appeared first on Nomadic Matt's Travel Site.